Recreational and competitive walking football for the over 50's..
Overview:
Originally Founded: December 2014 by a handful of enthusiastic volunteers
Officially affiliated to the Glos FA
Playing Level: mixed
Game Format: usually 6 v 6 (minimal contact/below head height)
Pitch Type: indoor (4G) outdoor (4G)
Age Limit: 50+. Open to everyone over 50
Two annual intra-club competitions – The Christmas Cup and The Phil Rice Memorial Cup
Social events: Christmas Dinner etc.
Plays in Competitions
Plays in Festivals/Charitable Events
Plays in Friendlies
Plays in International/National Tournaments.
If you would like to:
Come and talk please drop into any session (Tue/Fri's)
Book a taster session please contact the Club Secretary. However, we would like you to come a see a session before you book a taster.
Propose a friendly, a charitable event or an international/national tournament please contact the Club Secretary
Sponsor a kit/equipment please contact the Club Secretary
The club has more than 60 members registered with regular attendances of up to 28 on each of the two weekly sessions.
The weekly sessions are held at Cirencester Arena, Kingshill Lane on:
Tuesdays (over 50s) – 3.00 – 4.00pm at the Arena
Fridays (over 50s) – 3.00 – 4.00 pm at the Arena
These sessions are open to all. However, booking a place is required – you cannot turn up and play.
Membership costs:
£5 club joining fee and £5 annual membership fee (£10 total for the first year and then £5 per year thereafter).
Session fees are currently £4, payable in advance for each time you play.
Reversible bib is currently £4.50.
We currently participate in the Gloucestershire FA Walking Football League as well as other competitions & tournaments throughout the year. The Club has over 50s, over 60s, over 65s, over 70s teams competing in leagues, tournaments, and friendlies.
The success of Cirencester Phoenix Walking Football Club has been very much founded on respect, enjoyment, and mutual support no matter what the skill level of the participant.
For further information please email:
Club Secretary, Carlo Vuolo: carlovuolo@btinternet.com
CPWFC O50s GFA League Report
Date:  3 December 2023.
Venue: The usual Almondsbury, Bristol.
Match Reporter: Squad-sourced
Match Photographer: AWOL (again)
Our O50s went into the second round of GFA league matches unbeaten, with a slightly changed squad comprising John Kirkman, Richard Barley, Martin Collier, Dave Jenkins (player-manager), Neil Witchard, Jon Athawes, Jeremy Smith, and Neil Smith. Clear communication was vital with 2 Neils, 2 Smiths and 2 John/Jons in our squad.
We played 4 games on the same pitch with the same ref, who was quick to whistle. You knew exactly where you stood with him – no physical content whatsoever and punitive free kicks for moving above anything approaching fast walking. It interrupted the game flow, but at least he was consistent throughout.
Match 1 v Wotton Drew 0-0
John had to make a few saves to keep us in it. Jon slotted one under the keeper at the other end, but it was harshly disallowed for 'running'. I am afraid it was our usual sluggish start to the afternoon, perhaps exacerbated by a few changes of personnel and some rustiness (WD-40, anyone?).
Match 2 (friendly) v Bristol Telephones Won 2-1
Neil S scored our first with a neat toe-poke, then Dave played a 1-2 with Neil W and "unleashed a rocket into the roof of the net" (according to a nearby Sky commentator). Jeremy wisely took advantage of this friendly to get all his misses for the season out of his system, but he also had one disallowed when the referee had blown too early to give us a free kick instead of playing advantage.
Match 3 v Hanham & Kingswood Won 2-0
Jeremy intercepted a defensive pass and stabbed home with his left foot, then Neil S smashed in a low drive after Jon's flick and shot on the turn at a free kick fell nicely to him. A comfortable win that boosted confidence going straight into our last match of the day.
Match 4 v Barry Town 'A' Drew 1-1
We played very well in this game and created many chances – their keeper saving half a dozen shots on target – but in the end had only Jeremy's turn and shot in off the post to show for it. Sadly, he didn't see it go in himself as he was still spinning. Despite laying siege to Barry's goal for the last 10 minutes, we could not find the winner. Their loud cheer at the end and our disappointed faces spoke volumes.
So, 2 wins (including a friendly) and 2 draws on the day, and we remain undefeated after 12 games (including a pre-season tournament at Chippenham). The GFA league table is yet to be updated, but we believe we go into 2024 still at the top.
Garment of the day: Dave's tights
Pub of the day: The Rattlebone Inn, Sherston.
Next round: Sunday, 21 January 2024.
Thanks also go to Yves for travelling down to support the team on a wet and chilly Sunday afternoon. He encouraged us, provided post-match feedback on where we could improve and what to keep doing, and showed great team camaraderie while recovering from his long-term injury. Well done, Yves.
Over 65's Round Robin Tournament at Clevedon – 11.10.2023
Match Report – Phil Burden
Match Photography – Trevor Robinson
Match Mar Bars – Pete Mitchell.
In lieu of the over 60's being unable to field a team in the GFA league, we played our first friendly of the season on 11th October against Clevedon.
Clevedon were able to field two strong over-65 teams consisting mainly of players under 70. Our squad consisted of four under-70s and four over, so our work was cut out from the off as they had clearly played as teams previously and were very well organised. On top of this, we had to accept that tackling from behind was permitted if there was no contact. Also, the interpretation of walking football where 'running' was allowed if it was "on the cusp".
We played four games of 18 minutes. The results and reports are below.
Game 1: Clevedon 1 (their stronger side) v CPWFC – Loss 2-0
We took a while to find our feet in our first game as a team and against a strong side. We thought we had taken the lead early on when Phil Burden broke free and put the ball past their keeper, only to be penalised for running. It was a very dubious decision based on what the ref let go in subsequent games – the infamous "on the cusp" decisions. Had our goal stood, the result may well have taken a different course, but we conceded two goals despite a spirited battle.
Game 2: Clevedon 2 v CPWFC – Win 0-2 
Although this was potentially their slightly weaker side, there was not very much between them, and they still provided stiff opposition. We were much more organised in this game, began to play much better as a team, and managed a 2-0 win with Jeff Green rolling back the years with a brace. It could have been more but for some great saves by their keeper.
Game 3: Clevedon 1 v CPWFC – Loss 1-0
Having got our game together, this was a much closer fought battle than the first game where we only lost by the odd goal. We tested their keeper several times, but he was very good and managed to stop everything thrown at him.
Some strong defending by Geoff Mitchell, Peter Mitchell, Paul Hallam, and Steve Boss in goal kept the score at 1-0. It was slightly disappointing to lose this one as we acquitted ourselves very well, and this game could have gone either way.
Game 4: Clevedon 2 v CPWFC – Draw 2-2
Another close run game. With a well-taken 2-goal tally, Trevor Robinson was convinced that he was substituted to stop him from scoring a third and taking home the match ball. Adrian Chamberlain, "the Gaffer," explained the substitution, saying, "The ball bounced off his knee twice and managed to dribble across the line. It was unlikely to happen again, and I had super-sub, Terry Ward, eager to get on and net the winner."
Once again, we tested their goalkeeper several times, but they held us to a 2-2 draw. Their second goal could easily have been ruled out for running, but it "was on the cusp" in the ref's eyes. But overall, perhaps 2-2 was on the cusp of a fair result.
In conclusion, P4 W1 D1 L2. Goals for: 4, Goals against: 5. All-round a strong performance against two well-established sides, considering that our side was a mix of over-60s and 70s who don't regularly play in the same team.
More importantly, the Round Robin Tournament was played in a competitive and fair spirit, with all sides thoroughly enjoying the games. CPWFC will be hosting the return match at the Arena soon.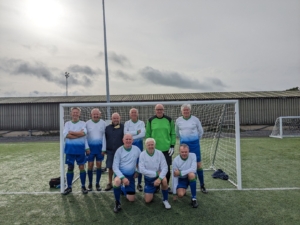 The full squad:
Back row left to right: Phil Burden, Pete Mitchell, Adrian Chamberlain (Player/Manager), Jeff Green, Steve Boss, Paul Hallam
Front row left to right: Trevor Robinson, Terry Ward, Geoff Mitchell
SIGN UP TO OUR NEWSLETTER